This revision is from 2009/04/17 16:11. You can Restore it.
Menu : Artworks
2010/2011

---

2009/2010

---

2008/2009

---

2007/2008 _ in progress
...

---

2006/2007 _ in progress
...

---

2005/2006 _ in progress
...

---

2004/2005 _ in progress
...

---
version française plus bas
AROUND is a month-long sound art festival about listening. Internationally renowned artists stay in Hong Kong on a 10-day residency, developing original live performances and installations at the tranquil Tung O Beach in the south of Lamma Island and in old Chinese brick houses in Motat village nearby. Sound objects and audio works are concurrently presented in multiple venues in the city. Public talks and workshops on sound in different cultural contexts take place throughout the month.
The festival is grounded on the place-making potential of the aesthetics of sound. This unprecedented event brings visitors out of the routines of urban space and back, enabling extra-ordinary and lasting listening experiences. AROUND is a direct and positive response to the domination of visual culture and noise pollution in the city, the numbing of our sense of hearing as a result, and the growing interest of artists working with sound.
AROUND presents international artists and emerging sound art talents from Hong Kong. Participants include Mike Cooper (UK), Kawai Shiu (USA/ Singapore/ HK) with Hong Kong New Music Ensemble (HK), Phoebe Hui (HK), Locus Sonus / Jerome Joy (France), Jaffa Lam (HK), John Lee (HK), Jason Lim (Singapore), Simone Merli (Italy/USA), Donna Ong (Singapore), Beatrix Pang (HK), Kacey Wong (HK), Patrick Shek (HK), Su Hei (HK), Akio Suzuki (Japan), Anthony Yeung (HK), Yan Jun (PRC), Miki Yui (Japan/ Germany)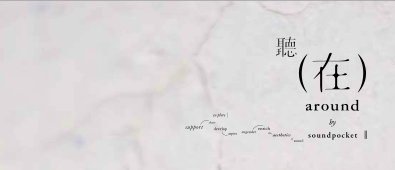 For programme details and ticketing information, please visit
http://www.soundpocket.org.hk/
Locus Sonus : Locustream Audio Tardis