This revision is from 2009/09/26 15:36. You can Restore it.
LOCUSTREAM PROJECT - GUIDELINE FILE FOR STREAMERS
v.1.090417 - revised v.1.090926
1/ first step : register your stream on locusonus.org

Please follow the process below to configure your machine to participate in the Locustream project and create an open mic.
| | |
| --- | --- |
| | |
2/ stream with the LocuStreamBox

We have developed a "streambox" - a mini-PC equipped with a microphone and configured to connect to our streaming server as soon as it is plugged in. These boxes are equipped with a wireless connection, they use very little electricity, and run silently (it doesn't need a fan to cool itself). It has a sound card, video out, 2USB and a network card. So yes, its like plug and play for the streams. Streamers may request a Streambox for a nominal fee, in order to ensure the permanent functioning of the webmics. We are currently (Spring '09) beta testing the streambox, the first version is now available : first prototype (v.1.0, 3C3, 0.5). And we're currently working on the v.1.1 (3D3). See below how to receive a LocuStreamBox.

Note : video documentation on the streambox's use : http://www.vimeo.com/1650869 and http://www.vimeo.com/2236743 (for creating a ad-hoc network)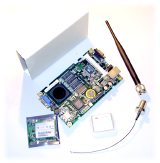 2.1/ First, read the streambox FAQ and follow the installation process

2.2/ installation (with WiFi - still in progress)

Same steps than above, except :
The Streambox will request for an IP both on the wired and the wireless card (if theres one present) keep in mind that the AP (Access Point) should be open. In case the wireless network is encrypted a more complex routine will be required. The Streambox is capable to stream over encrypted networks, if you will like to stream using this type of network please contact us so to help you configuring the device accordingly.


Logically, you must open the network config of the Linux system on the streambox, and select your SSID and put the password if it's required.
To open network prefs, please use the menu that appears with a right click anywhere on the desktop (Please read the [Locustream Streambox FAQ] about this feature)



2.3/ Troubleshooting/ Known Issues

Please read the [Locustream Streambox FAQ] for updated infos


before plugging in the streambox, check the power supply plug-in : 12 - 20 V (18 V is recommended), with the + pole in the center
if there is a problem with the server, or you have connection problems, the Streambox will reboot automatically.
Note : the buffer delay time needs to be increased (in audio settings) from 50 msecs to 200 msecs, it seems to illiminate some saturation.
Note : we tested the use of a standard USB soundcard (EDIROL UA-1) on the LocuStreambox. The recognition by Linux is automatic. This requires to change audio settings in Pd (Media/Audio Settings menu) by replace the default input/output device by OSS device#2 (instead of #1). We recommend to not click on "Save all settings" because it's a cause of a harsh error when the streambox is rebooted without the audio soundcard. Using an external USB soundcard requires to manually change these settings each time the streambox is rebooting. So this use is not recommended.
Note : some ground noise problems on the LocuStreamBox when the monitor is unplugged --> Please read the [Locustream Streambox FAQ]
Note : to download the last version of Linux StreamBox system on your FlashCard : this process is in progress
3/ configure a personal machine for Locustream or your locustreambox

You currently have the option of selecting a PureData patch (Windows, OSX, Linux) or a standalone OSX application for streaming.

3.1/ with PureData (osX, Win, Linux)

if it's not already installed, download and install the last version of Pd-extended (http://puredata.info/downloads) compiled by Hans-Christof Steiner
to download the locustream pd patch, send a message to support (at) locusonus.org
configure your microphone installation (see paragraph 4)
open the Locustream Pd patch and check the sound input (audio input or external soundcard, in checking the Media/Audio Settings in Pd)
go to step 3.3



3.2/ with Locus Streamer, stand-alone app (osX, Windows version forthcoming)

3.3/ start your stream

on your screen, adjust your audio level and correct it in using the internal equalizer
(reminder : if you're using a external soundcard, configure it in the PureData menu "Media/Audio Settings" or on the Locus Streamer by clicking on "open advanced audio properties")
when all is ok, type your stream settings in the patch (stream-name by typing the exact characters previously given by your register on the online form, your-name and location)
click on "stream" (ie the white big square in the Locus Streamer window)
check in "pd oggcast" if the Pd oggcast 'state' is 1 and if the pages are sent (or if the button "streaming" turns in green on the Locus Streamer window)
verify your stream url : http://locus.creacast.com:9001/location_yourstreamname.ogg
final step : go to the Icecast page of our streaming server, http://locus.creacast.com:9001/ . After copying the url of your stream (ctrl-click the loudspeaker icon), you can listen to your stream with VLC (http://www.videolan.org/) to adjust sound quality and the position of your microphone
go to step 5


4/ about microphones
you can use your own (electret) microphone or your own sound configuration with a small mixtable and one mic (or more). Different types of mic can be used : electret, piezo, etc. It depends on the sound capture process and system you want to set up. It's possible to use a (standard) external USB soundcard directly plugged in the streambox (tests are successful with Hercules and Edirol UA-1EX products, but see Troubleshootings, paragraph 2).
In order to improve or to customize your sound captation, you can use acoustic filters and focusers, such as a parabola, a windshield, a windscreen, etc. Have a look at the webmics examples.


we're currently building a LocusMic. It's a very small electret microphone with all the components into the sleeve of the jack. The microphone is a slightly higher quality omni electret made by Panasonic (MCE-4000). You can use a series of audio extension cable (jack 3.5mm). The electret is powered by the streambox (circa 5V). The LocusMic will be sent with LocuStreamBox bundle.
5/ listen to the Locustream SoundMap

We have created a animated map which shows the location of all the streams worldwide. Those currently active have a blinking light. By clicking on a location, one can listen to the audio stream in a browser.
go to locusonus.org
click on Locustream SoundMap (or directly go to http://locusonus.org/soundmap/)
check if your stream is well on
clicking on a stream name will open a pop-up window to listen
wait a few moment, and accept the Java ogg player certificate
open your ears and don't forget go to listen to the other streams
6/ other listening interfaces


the Locustream webmics are played by interfaces and systems other than the SoundMap : online apps or sound installations (such as Locustream Tuner, Locustream Promenade, Locustream Audio Tardis)
we wish you stream as long as you can, continuously, to be played by the various interfaces (this is the impetus of the development of the LocuStreamBox)
Sound installations (Tuner, Promenade) are publicly and temporarily shown. You will be informed via the mailing-list about events and dates
The Audio Tardis is continuously available online (on the front page of locusonus.org or directly at http://locusonus.org/tardis/). It is a listening sequencer and soundscape-saver, automatically navigating amongst the live webmics.
Soon available on the soundmap : the ability to mix multiple streams on a playable interface (still in progress)
The Locustream project generates continuous studies and listening experiments (like the Carpophores project by Esther Salmona and Journal de Bord by Nicolas Bralet - see on our website for more info -, and other studies by researchers in sociology and architecture). We are glad if you would send us feedback about your own experience and reflections.
The Locustream project is an open-sourced project and provides a sound ressource that feeds sound and music projects. You are welcome to develop your own projects using the locustream open mics (to see other projects that involved the webmics, go to locusonus.org, menu / PROD / external projects)
7/ how to receive a LocuStreamBox

We currently finalize a prototype v.1.0 with firmware v.0.5 (BIOS), and next versions. It's still in development but the prototype is working well. We send freely a streambox if you're ok to be a test expert with us, so for this participation to the technical development we request that your stream is always up along next months. Thus we can test continuous audio streams with the streambox prototype and improve our sound installations & on-line interfaces connected to the opem microphones network. In order to receive a streambox, please contact support (at) locusonus.org . For information, the cost of a streambox is being finalized, but will be around 160/170 euros (plus shipping).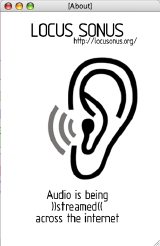 8/ aknowledgements and contacts


The LocuStreamBox is developed by Alejo Duque (Locus Sonus), The Locus Streamer stand-alone by Scott Fitzgerald (Locus Sonus), The LocusMic by Peter Sinclair & Scott Fitzgerald (Locus Sonus), Locustream SoundMap, Tardis and Locustream server configuration by Jérôme Joy (Locus Sonus), The Locustream Promenade by Julien Clauss (Locus Sonus)
Thanks to Hans-Christof Steiner for Pd-extended maintenance, to Olaf Matthes for Pd & Max/MSP ~ogg objects, to GOTO10 for Pure:Dyne distrib and to the very helpful supports provided by the users & developers communities. Thanks to Stéphane Cousot for PHP/mySQL programmings and Gilles Misslin (Creacast) for streaming server maintenance and bandwith.
Contact : support (at) locusonus.org
---
Post-grad research group : École Supérieure d'Art d'Aix-en-Provence (School of Arts), École Nationale Supérieure d'Art de Nice Villa Arson (School of Arts), in association with CNRS/MMSH/LAMES Lab Univ. de Provence (Samuel Bordreuil, Sociology Research Lab).
Research Directors : Jérôme Joy, Peter Sinclair.
Administrative coordination : Anne Roquigny.
2007/2009 Locus Sonus Lab: Julien Clauss, Alejo Duque, Scott Fitzgerald, Jérôme Joy, Peter Sinclair.
2005/2007 Locus Sonus Lab: Nicolas Bralet, Sabrina Issa, Jérôme Joy, Nicolas Maigret, Esther Salmona, Peter Sinclair, Lydwine Van der Hulst.
Fellows: Brett Ian Balogh (SAIC), Stéphane Cousot (Ind.), Clémentine Maillol (CNRS), Jean-Louis Paquelin (ENSA Nice Villa Arson).
Scientific Council 2006/2007 : Samuel Bordreuil, Philippe Franck, Bastien Gallet, Christophe Kihm, Bernard Stiegler, Raphael De Vivo, Michel Waiswisz.
Webmaster : Locus Sonus lab.