Easy configuration
Once the card is installed plug the Pi into your network with an ethernet cable, plug in your USB audio interface and connect the pi to its power supply. Then, on your personal computer (it must be on the same network) enter http://streambox.local/ in the web browser address bar. This will take you to a menu which should be self evident.
Enter your locus stream login and pass in the Settings section
Choose your audio quality (we recommend 0.3 but this depends on your bandwidth), the number of channels
Then click the save button
Click the start button in the Stream Status section and you should be streaming.
NB : If you should need to shutdown or restart the PI, do it from this interface (in the System Management section) rather than unplugging power.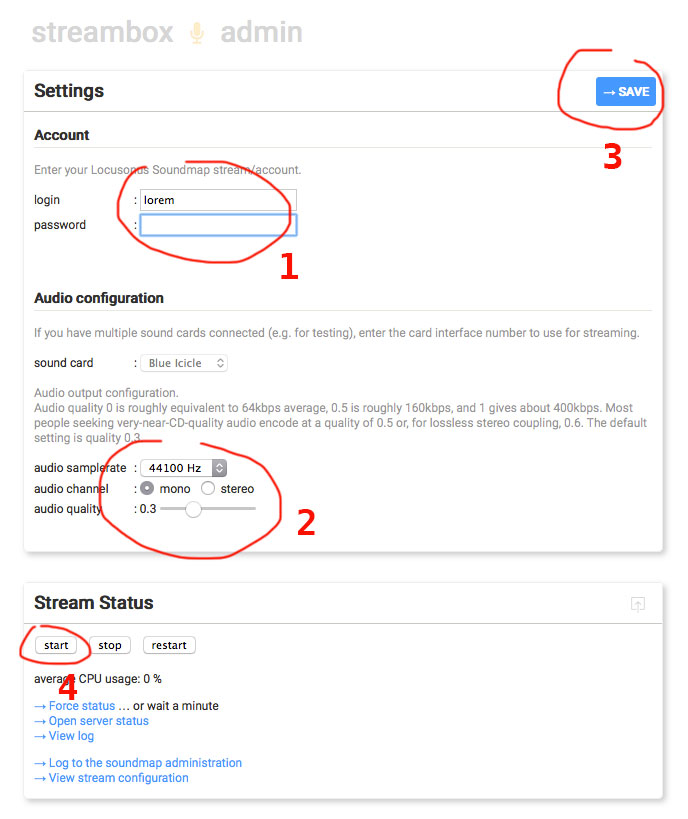 Remote Access
You can access your streambox from anywhere via the internet. This will allow you to adjust parameters and even to restart your streambox online. To do this you must first check "turn on remote access service on boot" in settings when you set up your box via streambox.local.
Disclaimer - be aware that by doing this you are opening an access to you local network (albeit a secured one).
Once you have done this, when you log on to your stream map account from outside your local network you will see this:

You can then copy and paste the Admin interface (http) address into your browser or SSH access into a terminal and access the box directly.
Manual configuration
If for some reason you cannot access your Streambox via your browser (you might want to configure a system and send it via the post for instance) or if you have several Streamboxs on the same local network, then you will need to configure your SD card "manually" after you have burnt the disc image:
Insert your SD card into a computer (after making sure that it is unlocked - the little tab pushed forward).
Open the volume (double click) and look for the streambox.txt file.
Scroll down untill you find # Enter your Locusonus Soundmap stream/account

LOGIN=""
PASSWORD=""
Enter you login and password (make sure your " " remain and appear as above (simple text on OSX tends to auto correct to a different character this can be changed in preferences).
Continue to scroll and inform audio settings (if necessary).
If the streambox is to be used via WiFi you should enable by entering yes and provide the network name (SSID) and Password (KEY). This will be enough for most domestic Wifi networks if not check the indications on your router or ask your network administrator.
WIFI_ENABLE="no"
WIFI_SSID=""
WIFI_KEY=""
WIFI_SECURITY="wpa"
WIFI_SSID_IS_HIDDEN="no"
WIFI_KEY_IS_HEXADECIMAL="no"

Important: If you are running several Streamboxs on the same network, scroll down to: HOSTNAME="streambox" and change the name streambox to a unique name for example: streambox1
All other parameters can also be configured via this interface but once you are up and running it is probably easier to do this via the web interface (see above).
Save your the streambox.txt file, unmount the volume put it in the stream box and plug in.
If your computer does not support Multicast DNS or zero configuration networking, or if you are not on the same local network (your streambox is behind another router, or behind your smartphone network, a global network, etc), the streambox.local address can not be reached. As an alternative you can also use the streambox's IP address directly.
Ethernet and USB tethering are always enabled (using the DHCP protocol by default). To find your streambox address and edit your configuration from your Androïd browser, use a network scan application.
If you need a static IP address, configure the appropriate network in the Setting section.